"Brother Phil" is the first track from my instrumental, acoustic guitar demo, "Hope in the Dark."

Many people have had a lasting impact on my life. Some of them I've known intimately and personally. Others I've only known from a distance.
I first experienced the music of someone who would have a tremendous impact on my life while visiting friends at Westmont College in my late teens. Beautiful acoustic guitar melodies flowed from the dorm room stereo, and I found myself intrigued. "Who is that?" I asked. "Phil Keaggy" came the reply. "Beyond Nature."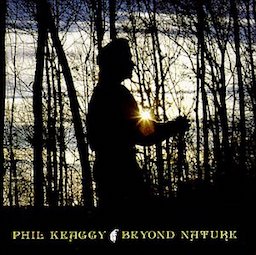 I got my hands on a copy faster than you can say In the Light of Common Day. That album caused me to venture out from my classic rock and metal foundations into a fresh musical experience. My sonic highways expanded to encompass new horizons as I embraced a melodic and harmonic breadth I had not anticipated or previously encountered. Basically, it blew me away. It still does to this day.
I remember hearing an apocryphal story that someone once asked Jimi Hendrix who he felt was the world's greatest guitar player. Jimi's supposed reply? "Phil Keaggy." I've heard others attribute this story to Eddie Van Halen or Eric Clapton. While Phil himself has discredited the myth, it has a ring of truth to it. Any guitar player who has heard Phil Keaggy knows their ears are experiencing something special. The first time I saw him play live, I remember thinking to myself "how can his hands move that fast?"
That was back in High School at a church in North County San Diego in the early 1990s. After the concert I had the opportunity to talk to Phil and found myself awestruck. He engaged my immature teenage-self with the humility and attentiveness of a true gentleman. I peppered him with questions about music, faith and life. And I'll never forget one thing he told me:
Don't make music for money, or fame or glory. Make music for Jesus and for his glory.
I saw Phil again while in college and had the opportunity to visit with him backstage after the show. He was surrounded by what I suppose were friends and family members, and yet he graciously welcomed me and my friends. He engaged us in conversation, never making us feel like we were a nuisance or intrusion.
Last time I saw Phil, he performed at Hume Lake. My whole family made the trip up the mountain and my kids experienced Phil's guitar mastery live for the first time. It mesmerized them. And, as always, when I approached Phil after that show, he displayed that same genuine humility I had come to expect from him. Phil's entire career has pointed to life Beyond Nature.
Phil is the real deal.
Phil has consistently used his musical talents to bring glory to Jesus Christ. He didn't just give me that advice because it's "what you're supposed to say." He has lived it out over the decades of his musical career.
As Phil's life has influenced mine, others have influenced his. In particular, he pays homage to C. S. Lewis, author of the Narnia series, Mere Christianity and many other works. Phil conveyed the influence that C. S. Lewis had on his life by naming his album after a quote from Lewis' Mere Christianity.
We are summoned to pass in through Nature, beyond her, into that splendor which she fitfully reflects. And in there, and beyond Nature, we shall eat of the tree of life.
- C. S. Lewis, Mere Christianity
Lewis went by the nickname "Jack" with those closest to him. And a song from Beyond Nature is dedicated to the man who had a profound impact on Phil's life.
In a similar vein, I dedicate Brother Phil to my brother in Christ and his kingdom, Phil Keaggy. I pray my life and music would follow in his footsteps, always seeking to glorify Jesus Christ.
Phil and Jack, one day we will meet Beyond Nature and partake together from the Tree of Life. What a glorious day that will be.
Find out more about Phil at http://www.philkeaggy.com/
Find out more about "Hope in the Dark," my instrumental acoustic guitar demo.
Listen
---
Be sure to Subscribe via RSS to keep up to date with the latest content!
If you liked this post, you can share it with your followers or follow me on Twitter!
Looking for more?